CNC2 GEAR HOBBING MACHINE
CNC2 GEAR HOBBING MACHINE

PRODUCT OVERVIEW
PARAMETER
CONFIGURATION
This TWO-AXES CNC CONTROLLED MACHINE is capable of cutting cylindrical spur and helical gears with plain, crowning and slightly tapered teeth, as well as sprockets and work wheels.
The machine is best suited for wide scope of applications including automobile factories, tractor factories, gear-box factory, machine tool and general machinery manufacturing. Also is widely used in the metallurgy, mining, chemical and transportation industry.
Characteristics
The modular machine concept has been consistently applied to the large machines of this series, guaranteeing an outstanding cost-benefit ratio and low maintenance costs.

Cast-iron machine bed of maximum static and dynamic rigidity with integrated fluid circulation for thermal stability.

The worktable is driven high quality, high precision worm and worm wheel gear drive.

Linear slides are provided with backlash-free pretension ball screws. AC servo-drives, cast-iron guideways, resin-coated for optimum vibration absorption. Controlled pulse lubrication is used..

With vertical design, the worktable moves to realize feed motion.

CNC axes are driven through preloaded ball screws. It can cut gears with crowning and slightly tapered teeth by axial and radial co-ordinate control.

High precision hydraulic components.

Main guideways are coated with Teflon, the main body is annealed cast structure and solid construction which gives high rigidity.

Manual hob shifting.

Separate cooling systems.

Precision ball screws are used for CNC axes to ensure high moving and positioning accuracy.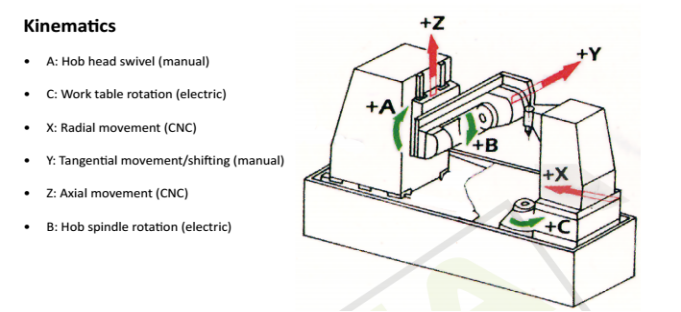 YK31125

Maximum workpiece diameter when processing straight tooth gear

1250 mm

Maximum workpiece width when processing straight tooth gear (width between centre≥200)

HOB ASSEMBLY

300 mm

WORKTABLE

Distance from hob centre to worktable

Maximum

690 mm

Minimum

210 mm

Distance from hob centre to worktable centre

Maximum

750 mm

Minimum

120 mm

MOTORS

Z axis servo motor

1FK7103 5.23KW 2000 r/m 25/36nm

X axis servo motor

1FK7103 5.23KW 2000 r/m 25/36nm

GENERAL

X axis, Z axis Min programming amount

0.001mm

3750×2040×2500 mm

13500kg
Standard components

System

SIEMENS 828D

Hydraulic parts

TAIWAN CHAOTIAN

Electric parts

SCHNEIDER

Bearing

NSK , ZWZ

Gear

SMTCL

Cast iron

Domestic top brand,Jinhe cast

Ball Screw

Nanjing Technical Equipment Manufacture Co., LTD

Spindle

Domestic top brand,made in xiangfan

Worm wheel

Made by German turbo-processing machine

Worm

Made in Chongqing
Feedback form contact with us