CNC Fiber Laser Cutting Machine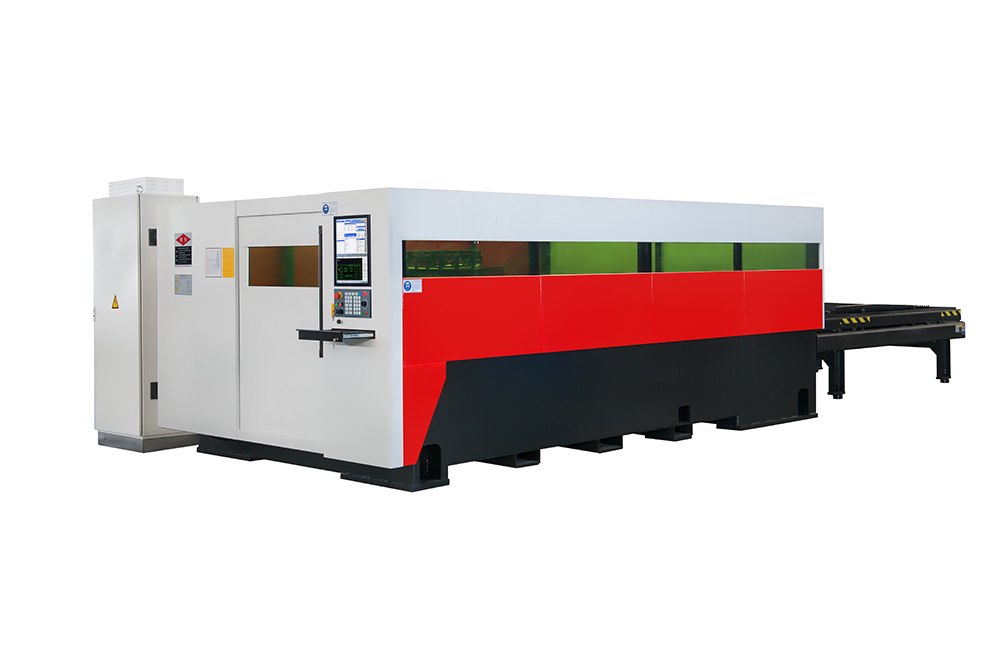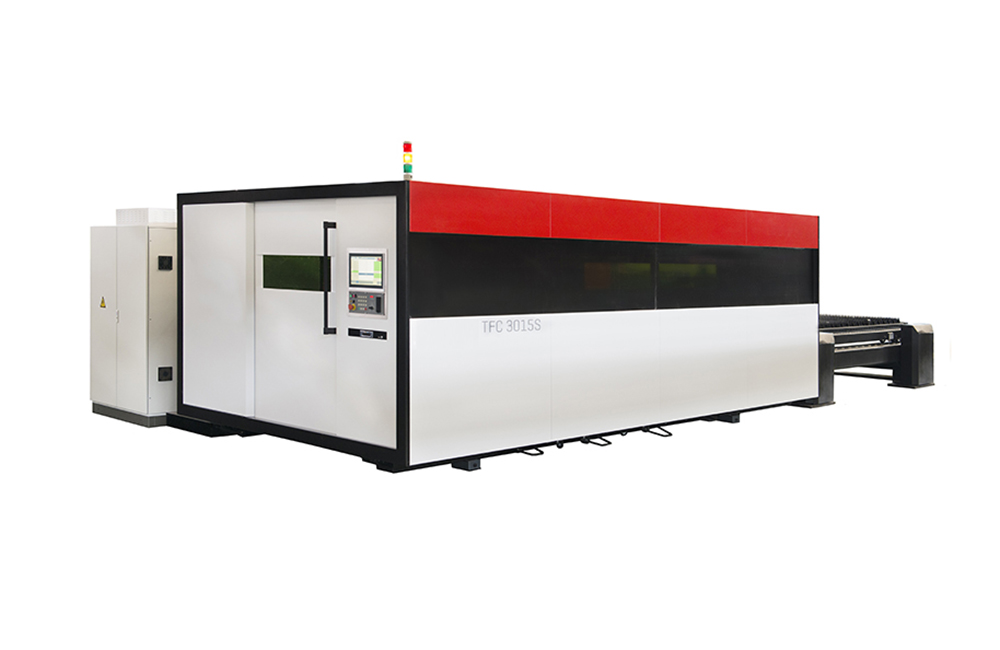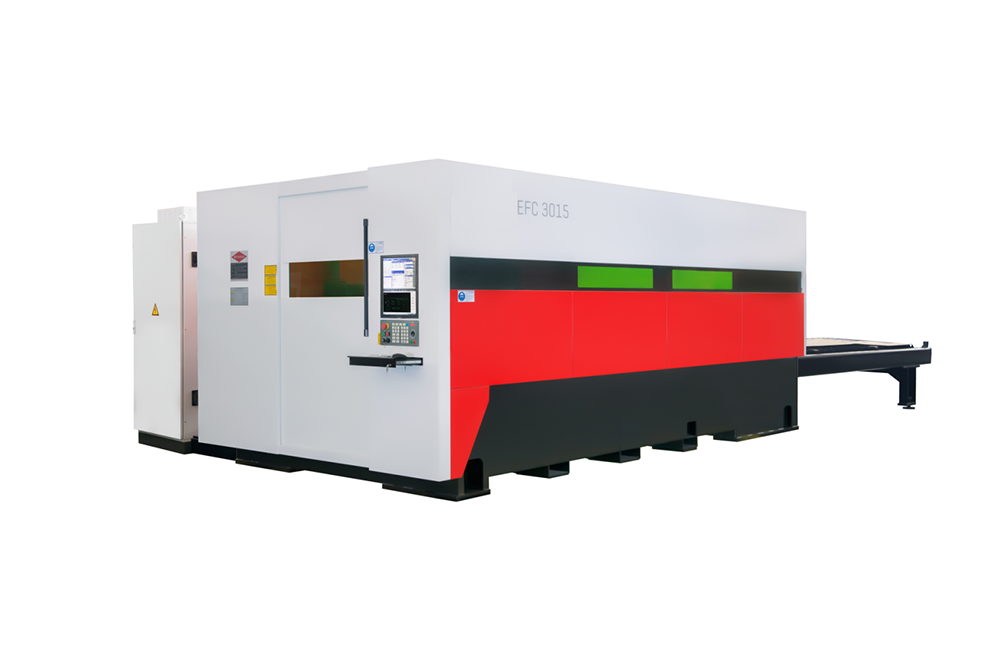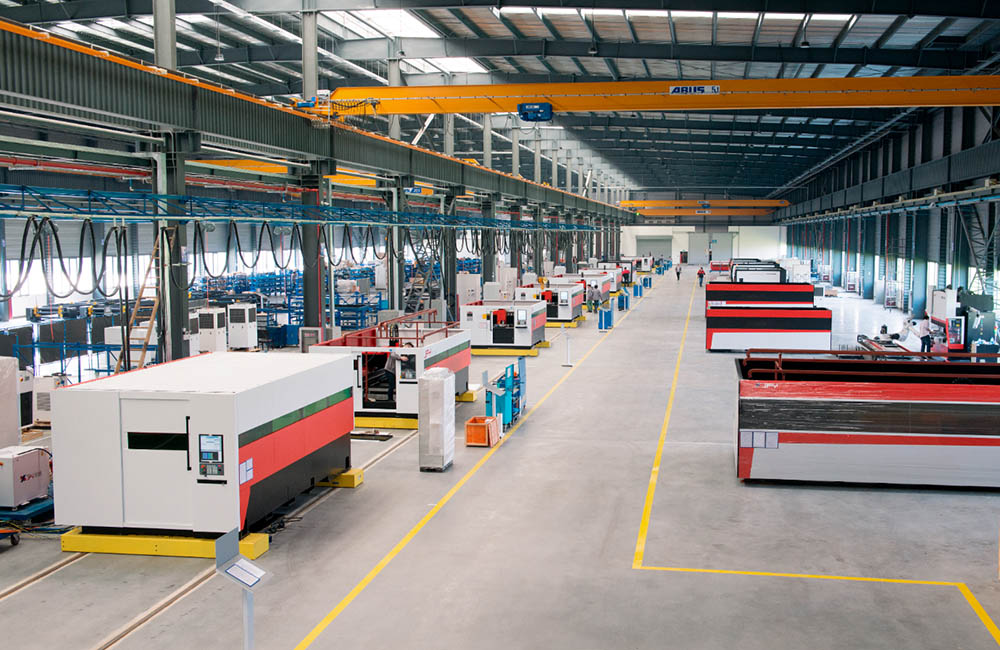 CNC Fiber Laser Cutting Machine

DESCRIPTION
PARAMETERS
information
Standard Inputs:
1)1000W TruFiber Laser Resonator

2)Fast shuttle worktable 3000*1500

3)Beckhoff CNC control system

4)Water cooler for laser resonator

5)Cutting head especially for fiber laser

6)Capacitance type height sensor

7)Auto-program software especially for laser cutting

8)Dust collector

9)Gas precise filtering system

10)High pressure cutting pipeline
Product introduction:
EFC3015 CNC laser cutting machine is mainly used for flat plate cutting and processing, through CNC system, straight line and an arbitrary shape curve can be cutting and carved in the plate. It can conveniently cut the ordinary carbon steel plate, stainless steel plate, copper plate, yellow copper and aluminum, and other metal that cannot be easily cutting by common processing method.
Main Specification



Item

Specification

Unit

1

Sheet Cutting Size

3000×1500

mm

2

Stroke of X Axis

3000

mm

3

Stroke of Y Axis

1500

mm

4

Stroke of Z Axis

280

mm

5

Max. Feeding Speed

140

m/min

6

Cutting Accuracy

±0.1

mm/m

7

Rated Laser Power

1000

W

8

Cutting Thickness (when the required cutting condition is met)

Carbon Steel 0.5-12

mm

Stainless Steel 0.5-5

mm

9

Stable Cutting Thickness

Carbon Steel 10

mm

Stainless Steel 4

mm

10

Input Power

31

kVA

11

Shuttle table exchange time

10

S

12

Machine Weight

8

t
SPI Laser Resonator
| | |
| --- | --- |
| Model | TruFiber -1000 |
| Input Power | 3000W |
| Output Power | 1000W |
| Laser Power Stability | <1% |
| Laser wave length | 1075nm |
CNC System
| | |
| --- | --- |
| Item | Specification |
| CNC system | Beckhoff |
| Processor | Dual-core 1.9 GHz |
| System memory capacity | 4GB |
| Hardware memory capacity | 8GB |
| Display screen type & size | 19″ color liquid crystal |
| Standard communication port | USB2.0、Ethernet |
EFC3015 CNC laser cutting machine characters:
EFC3015 CNC laser cutting machine is a new type of laser cutting machine. The structure has high rigidity, good stability, high cutting efficiency and high machining precision. The products are of high flexibility, safety, easy operation and low energy consumption. It belongs to environmental protection product, the processed plate size: 3000 * 1500mm; with the safety shield and the shuttle table. The overall layout is compact and reasonable.
Low consumption - laser does not need gas;
Low energy consumption, energy saving, environmental protection, low power consumption;
Modular structure, cooling system and light source system and laser source are integrated together;
The high stability - power - time feedback control system with laser power, power stability 1%;
Maintenance costs are low - fiber head using the mirror protection technology, if polluted, only need to change the protection lens;
EFC 3015 technology:
A. adopts imported precise linear guide, import precise gear rack drive, ensure the positioning accuracy and repeatability.
B. Gantry type dual motor direct drive structure makes the whole structure of the product is compact, and the rigidity is good, and the height of the whole machine is lower.
Product structure:
The main body is welded of steel plates, after the rough machining, dealing with vibration aging stress. Through precise machining, provides a solid platform and level for the motion system.
The beam adopts flexible structure, with adaptive thermal expansion and contraction function, accounting through the finite element method. Beam parts is mounted to the bed by precise linear rolling guide. Guide, gear and rack are equipped with flexible protective cover, so as to avoid being contaminated by dust.
The product is equipped with shuttle worktable, easy to load and unload material when cutting. Below the worktable equipped with dust partition parts and material collecting groove, matching with wheel discharging car, scraps can directly enter into the waste discharging car.
TruFiber laser generator
Fiber laser has the characteristics of near infrared spectroscopy, perfect beam quality, optical fiber transmission, high electro-optical conversion efficiency and so on.
(1)With red laser light show function.
(2) High electro-optic conversion efficiency: fiber laser electro-optic conversion efficiency is about 33%.
(3) The fiber laser pump source is made of a high power single core semiconductor module, and the average failure time is less.
(4) High efficiency, internal heating element is very low compared with the traditional laser, the demand of electric power and cooling is greatly reduced.
(5) The laser generator does not need working gas, there is on lens inside and do not need to maintain, do not need the starting time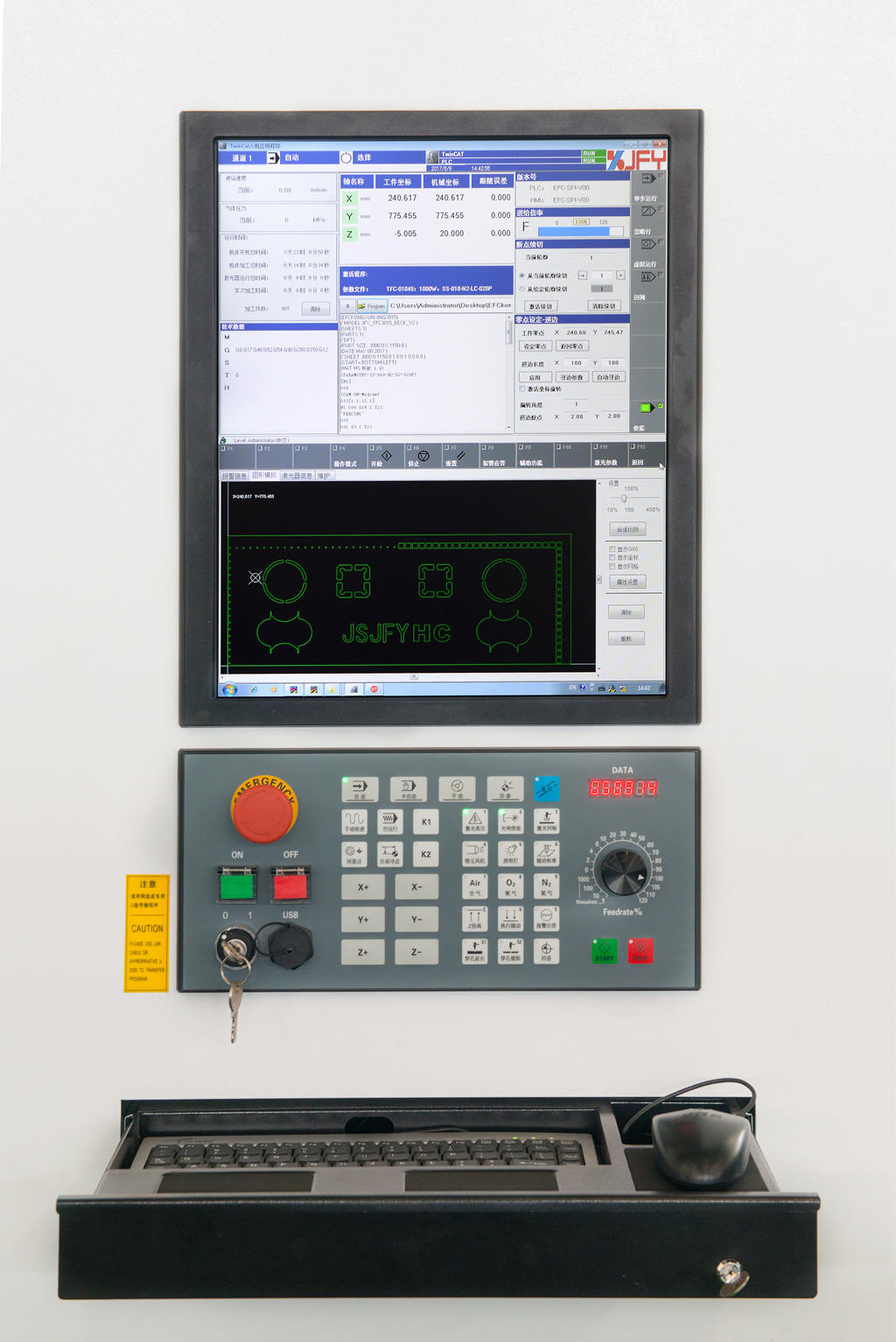 Beck Hoff CNC Control system:
(1) CNC control system uses Windows 7system, the performance is stable and reliable.
(2) Large torque AC digital servo motor to ensure that the product's positioning accuracy and dynamic performance.
(3) Graphics simulation.
(4) power control function.
(5) Leapfrog function.
(6) Cutting scanning function.
(7) Sharp processing function.
(8) Pause function, automatically records the procedure section.
(9) Previewing of the NC program can be modified in real time to modify the editing process.
(10) Edit, modify any instructions in the process of the search program to.。
(11) self-diagnostic function, the alarm exception is displayed on the operating interface.
(12) The size of the workpiece can be enlarged and reduced.
(13) Image processing function of the workpiece.
(14) Automatic edge searching function.
(15) After power off, the current coordinates can be recorded and automatically reset after the power is on.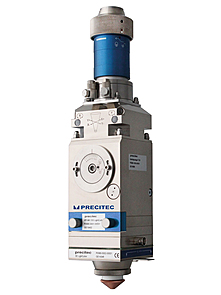 Cutting head:
The laser beam is made of optical fiber, and the laser beam is parallel to the focusing lens. Protective lens mounted in the "pull type" mirror seat, maintenance and replacement time is very short. Select laser cutting head with non-contact capacitive sensor, performance is stable and reliable, easy to use.
Features are as follows:
(1) The use of drawer type protective lenses to facilitate the rapid replacement of optical protective lenses for the protection of the collimator lens and focusing lens.
(2) The cutting head is equipped with a Z axis height automatic tracking device which is controlled by a non-contact capacitive sensor. In the process of cutting, the relative position between the laser focus and the plate can be adjusted automatically by the distance between the surface of the workpiece and the nozzle.
(3) The laser cutting head can provide CNC system with the signal of the cable opening and the cutting head collision, etc.
(4) The gas pressure of 2.5 MPa can be subjected to the cutting of processing materials such as stainless steel.
(5) Cool water, cutting the auxiliary gas, sensors, etc. are all integrated in the cutting head, effectively reduce the damage to the above parts in the cutting process, improve product stability.
Safety device::
The processing area is enclosed with a protective cover and is provided with a safety protection window to protect the operator from laser radiation.
Dust collection:
The cutting area is equipped with a partition dust suction pipe, and a strong centrifugal dust collector is used to remove dust and dust. Provide the air blower and the interface size and the 3 meter hose, the extension tube is made by the user according to the scene, the wind pipe length is less than 10 meters, the air blower is outside;
Anti-interference ability:
With advanced digital control system, has the ability to resist interference. Electrical system adopts strictly anti-jamming design, electrical control cabinet is divided into strong and weak regions, which can effectively prevent mutual interference between electrical components, so it can ensure reliable and stable operation of products.
Lighting:
The cutting area is equipped with two safety voltage lamps, which can supply illumination when the light is insufficient or maintained, making the operation more convenient.
Electrical components:
Electrical components using Schneider and other well-known international Brand Company's products, greatly improving the reliability of operation. The electric cabinet adopts the independent closed structure, and the color of the wire is used to distinguish the AC, DC, power and protective grounding wire.
Automatic programming: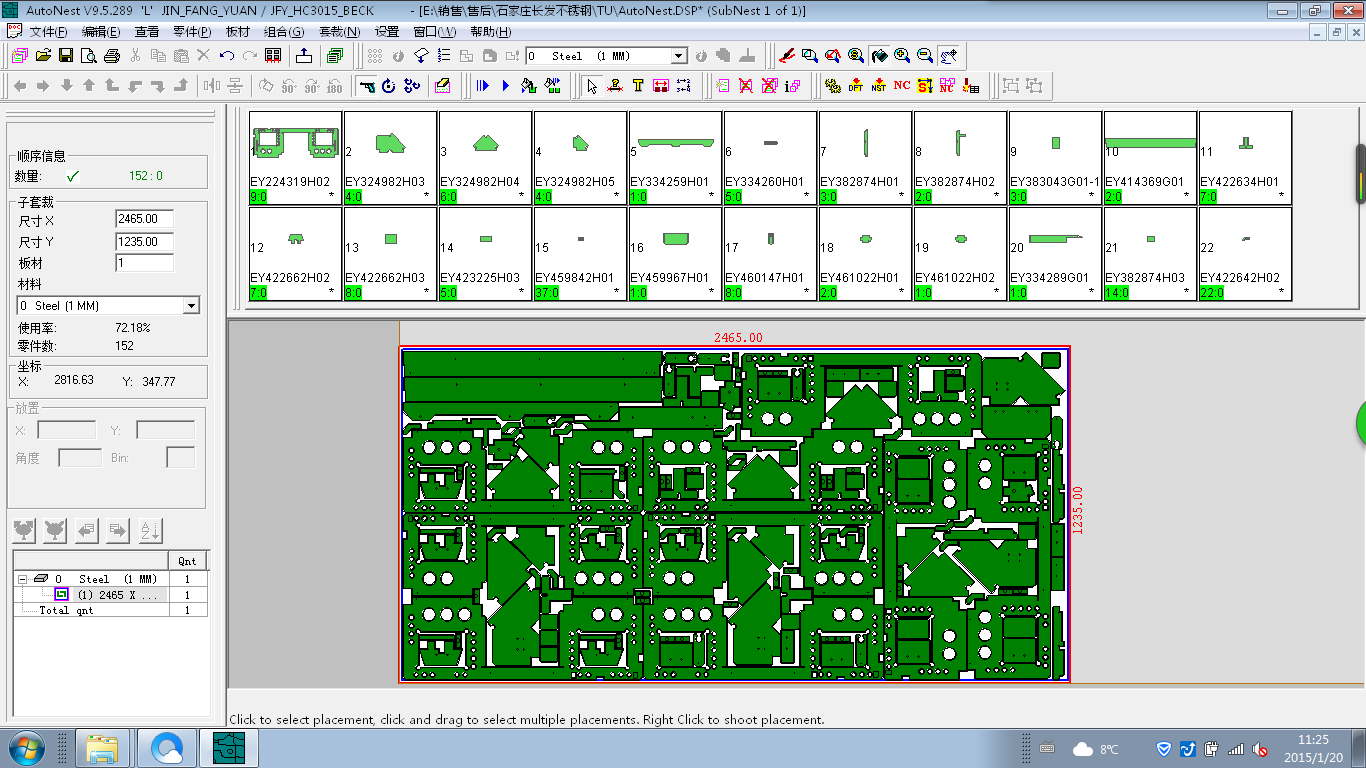 Product equipped with CNCKAD automatic programming software, not only can be connected with the factory CAD/CAM technology, but also to reduce the workload of programming and the possibility of error, the good program can simulate cutting. Equipped with cutting layout module, automatic optimize and layout of the parts to be machined. Both simple and complex workpiece graphics can be automatically converted into a processing program.

NC laser cutting system programming software function:
(1) The entire Chinese operating interface.
(2) Support for DWG, DXF input and output formats.
(3) Self-checking performance is good, refuse to perform the operation of the error
(4) Automatic nesting function, saving material.
(5) Fully automatic multi-layer cutting function.
(6) Engraving function.
(7) A variety of font for the UK and Chinese.
(8) The length of the cutting pattern can be calculated.
(9) Common edge cutting function.
(10) Cost management functions.
(11) Cutting database.。
(12) Data exchange can be carried out through the USB or RS232 interface.
* Software operating environment (recommend the user to support hardware)
(1) Memory 256M
(2) Hard drive 80G
(3) XP Windows operating system
(4) TFT 17 "LCD display
(5) 16X DVD CD-ROM

Main Components:
| | | |
| --- | --- | --- |
| Item | Qty. | Remark/Supplier |
| CNC System | 1 set | Beck Hoff |
| Drive | 1 set | LUST Drive(X/Y axis)+PHASE motor(X/Y axis)+Delta drive and motor(Z axis) |
| Laser Generator | 1 set | TRUFIBER CUT |
| X/Y axis precise gear | 1 set | GUDEL/ATLANTA/GAMBINI |
| Z axis precise ball screw | 1 set | THK |
| X/Y/Z axis precise ball linear guide | 1 set | THK |
| Motor for shuttle table | 1 set | SEW |
| Pneumatic components | 1 set | SMC、GENTEC |
| Cutting Head | 1 set | PRECITEC |
| Auto-program Software | 1 set | CNCKAD |
| Electrical components | 1 set | Schneider |
| Towline | 1 set | IGUS |
| Water Cooler | 1 set | TONGFEI |
Requirement for Machine Installation:
No.

Item

Specification

Unit

1

Power

380/50

V/Hz

2

Required power distribution

40

kVA

3

Power Stability

±10%




4

Computer

RAM 256M/hard disk 80G, DVD

5

Oxygen for cutting carbon steel

Purity should be higher than 99 .9%

6

Nitrogen for cutting stainless steel

Purity should be higher than 99 .9%

7

Water for water cooler (distilled water)

100

L

Conductivity: >25μS/cm

μs

8

Pure water

150

L

9

Grounding resistance

≤4

Ω

10

Installation environment temperature of laser generator

5-40

℃

11

Installation environment humidity of laser generator

Less than 70%




12

Requirement for installation area (the details can be referred to foundation drawing)

The foundation concrete thickness should be thicker than 250mm, the flatness should be less than 10mm every 3m. There should be no vibration within the installation area.
Dispatch tool, Accessory & Spare part:
| | | |
| --- | --- | --- |
| Item | Qty. | Unit |
| Protective lens | 5 | Pc. |
| Ceramic ring | 1 | No. |
| Cutting nozzle | 6 | No. |
| Spanner | 1 | No. |
Technical documents
Provide all necessary and detailed technical documents for installation, operation and maintenance
(1) Instructions for Laser Cutting Machines
(2) CNC System Data
(3) Electrical principle diagram
(4) Instructions for Water Coolers
(5) Installation Layout
(6) Foundation drawing
(7) Qualification Certificate
(8) Installation, commissioning and acceptance
After the product arrive at the user's installation site, our company will arrange an experienced personnel to the user's site for installation, commissioning and sample cutting and processing. The final acceptance is carried out on the user site according to the acceptance standard of our company. The acceptance items include: appearance quality, configuration of each part, cutting accuracy and quality, performance parameters, stability, working test, etc.
Our company is responsible for the installation and commissioning .Users need to prepare the required manpower and lifting products. Users prepare consumable materials and sample materials for commissioning.
Acceptance is divided into two steps:
First step
(1) The preliminary acceptance of the products is carried out in our company.
(2) The acceptance of products shall be carried out in accordance with the technical agreement signed by both parties.
(3) Product appearance inspection: pipeline layout should be reasonable, neat and beautiful, reliable connection; paint surface uniform and beautiful decoration; product appearance without knocking and other defects.
(4) Product configuration inspection.
(5) On-site inspection of cutting sample quality.
Step 2 Acceptance
(1) The final acceptance of the product is carried out at the user's site.
(2) The acceptance of products shall be carried out according to the signed technical agreement and acceptance handover order, and the material for testing shall be provided by the user. If the user needs to accept the typical workpiece drawings, please provide the typical drawings (electronic version) in advance.
(3) After the completion of installation and commissioning, if the product run normally , it will pass the acceptance test. The final acceptance test will be regarded as qualified and the quality guarantee period will begin.
Personnel Training
(1) Require the trainees to have a secondary school or higher education (electrical specialty is the best), at the same time, master certain basic computer knowledge, and be skilled in computer operation.
(2) After the installation and commissioning, our company is responsible for providing free on-site training for users for 7 days, training 1 electrical maintenance worker, 2 operators and 1 mechanical maintenance worker. And ensure that user operators can basically master product performance, correct operation and maintenance skills.
(3) Training content: product structure and performance, laser performance, operation, NC programming, laser processing technology, daily maintenance and other aspects.
(4) Special training support: Users can arrange 2-3 operators and maintenance personnel to come to our company at any time.
Training is exempt from training fees.
Expenses incurred during the warranty period shall be borne by our company, except those incurred due to improper use and operation by users.
Our company provides maintenance services and spare parts for life.
Product Quality Guarantee Period
The product quality guarantee period is one year and the optical lens quality guarantee period is 90 days. Cutting nozzle, cutting supporting tooth plate, filter element, ceramic body and optical lens are easy-broken parts.
Note: EFC has air cutting function (10 kg air compressor), but the customer should equip the following parts by himself.
Parts Prepared by EFC Users
| | | | | |
| --- | --- | --- | --- | --- |
| Item | Name | Brand | Model | OTY |
| 1 | Oil-free air compressor | | WW-0.9/1.0 | 1 |
| 2 | Dryer | PARKER | SPL012 | 1 |
| 3 | Water separator | domnick | WS020CBFX | 1 |
| 4 | Filter | domnick | AO015CBFX | 1 |
| 5 | Filter | domnick | AA015CBFX | 1 |
| 6 | Filter | domnick | ACS015CBMX | 1 |
| 7 | Coupling | PARKER | FXKE2 | 2 |
| 8 | Coupling | PARKER | NJ015LG | 1 |
| 9 | Pressure relief valve | FESTO | LR-1/2-D-MIDI | 1 |
| 10 | Joint | SMC | KQ2H12-04AS | 1 |
| 11 | Joint | SMC | KQ2L12-04AS | 6 |
| 12 | Joint | SMC | KQ2P-12 | 1 |
| 13 | Gas pipe | SMC | T1209B | 15m |
| 14 | Joint | EMB | VADKO 15-RL/WD | 1 |
| 15 | Joint | EMB | X A15-RL/WD | 1 |
Feedback form contact with us